Preserving and restoring water resources
Water is essential to all life on the planet and to our modern economy. Fresh water makes up only 2.5% of the planet's water, and it is unevenly distributed. As the human population grows, water scarcity has become a serious societal and environmental problem. Climate change is further accelerating this issue. We act to preserve and restore water resources, today and for future generations.
Under our 'One Planet. One Health' frame of action, we embrace our responsibilities as a company and leverage our reach as a force for good. We act to relieve water stressed environments by helping to preserve and restore ecosystems, wetlands and natural water cycles. We leverage the principles of circular economy within and beyond our factories to manage our water usage. We work to bring safe drinking water, wherever possible, to as many people as possible.
The Danone Water Policy sets out our strategy on water preservation for 2030 at global and local levels. We are developing water stewardship projects worldwide to achieve a water positive impact on the landscapes where we operate. Read the Danone Water Policy on Danone.com
PRESERVE WATER RESOURCES AND THE NATURAL ENVIRONMENT
We actively promote a regenerative agriculture that respects natural ecosystems and water cycles. By managing watersheds where we operate, through nature-based solutions, we act to preserve water resources.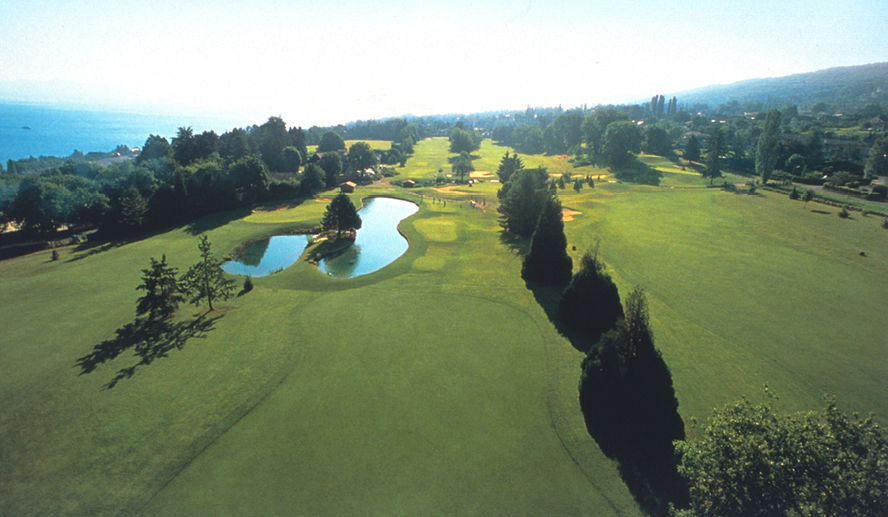 Agriculture
As agriculture is responsible for 89% of our overall water footprint, the health and sustainability of our agricultural supply chain is a major focus of our water stewardship and regenerative agriculture programmes. Worldwide, we work closely with public and academic partners as well as farmers to co-build water-smart solutions and sustainable farming models.

By 2030, focusing on ingredients in highly water-stressed areas we will:
Reduce total water use by 25% through better irrigation management
Increase buffer zones of at least 15% to reduce run-offs
Optimise fertiliser usage at the farm level for 75% of volumes of milk, fruit, almond and soy
Build remediation plans and support implementation for our direct milk supply chain across five priority zones
Implement pilots using an integrated landscape approach for five key other ingredients by 2025
Require suppliers to set up water management plans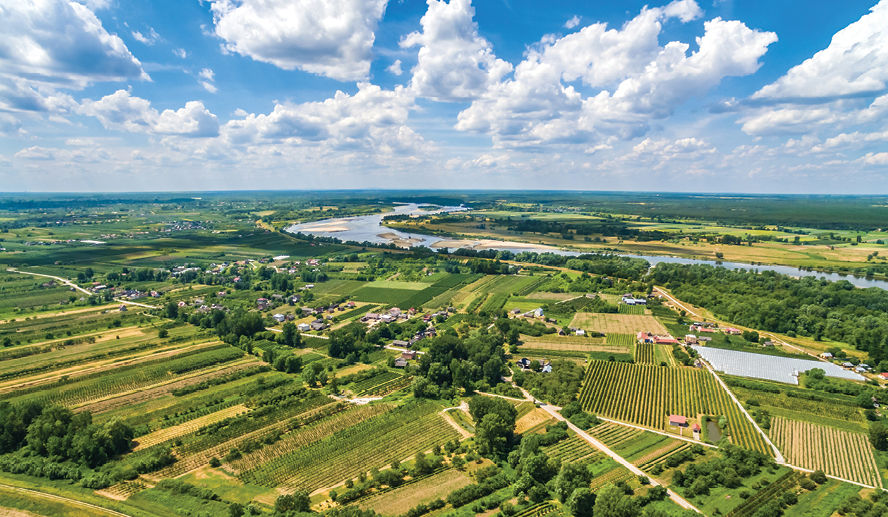 Watersheds
Working with an in-house team of hydrogeologists, local communities, water users, providers and authorities, we have developed water stewardship plans for sustainable water management and proper governance at the watershed level. We focus on landscape approaches and nature-based solutions such as agroforestry, wetlands preservation and agricultural optimisation. The many benefits include biodiversity enhancement, soil health improvement, carbon sequestration, sustainable water resources management and better livelihoods.

Building preservation and restoration plans for 100% of the 55 watersheds in the highly water-stressed areas where we operate
Working locally to create an effective system of governance with stakeholders and integrate actions into existing governance structures
Launching a new Danone water platform to share open-source data, knowledge, and train internal and external people on water stewardship
Protecting and preserving our water sources
evian and Volvic's commitment to source preservation runs deep, including working to protect the water sources so that they can renew themselves in the natural way. We never want to take more than nature can provide and replenish each year. To help us preserve our sources and promote sustainable agricultural practices, we work with the local communities on a range of initiatives. Discover more about evian's work the Évian-les-Bains area and Volvic's conservation activities.

DRIVE WATER CIRCULARITY IN AND AROUND PRODUCTION SITES
We have worked to increase water use efficiency and enhance waste water quality in our operations for over 20 years.
Our focus is to reduce water consumption, achieve higher cleanliness of discharged water and increase circularity in our operations and beyond.

By 2030 we will have:
Implemented a holistic '3R' approach – reduce, reuse, recycle – in 100% of our production sites
Assured a second life for 100% of clean, discharged water directly from our high-risk sites
Reduced the water consumption intensity of all high-risk production sites by 50%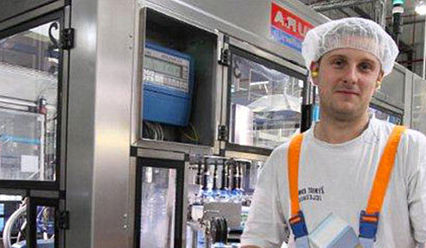 Reducing water consumption at our supply points
We are committed to preserving water quality and to respecting its natural cycles by adopting responsible practices at a local level wherever we operate.
In 2020, at our specialised nutrition factory in Macroom, Ireland, we saved over 3000m3 water by reclaiming waste water and introduced a new technology in our reverse osmosis water processes that reduces fresh water consumption by 20%.
PROVIDE SAFE DRINKING WATER TO VULNERABLE PEOPLE AND COMMUNITIES

We support innovation to deliver safe drinking water to those who need it most.
Investment provided by Danone Communities empowers innovative social entrepreneurs to achieve sustainable social impact. The social business fund supports social entrepreneurs with innovative businesses aiming to provide water access or healthy nutrition to low-income populations.
Our 2020 commitments were to:
Sign the WASH Pledge to access safe Water, Sanitation and Hygiene at the workplace
Anchor a new blended 'W2AF Water Access Acceleration Fund' to finance social businesses supplying safe drinking water
Reach 50 million people daily by 2030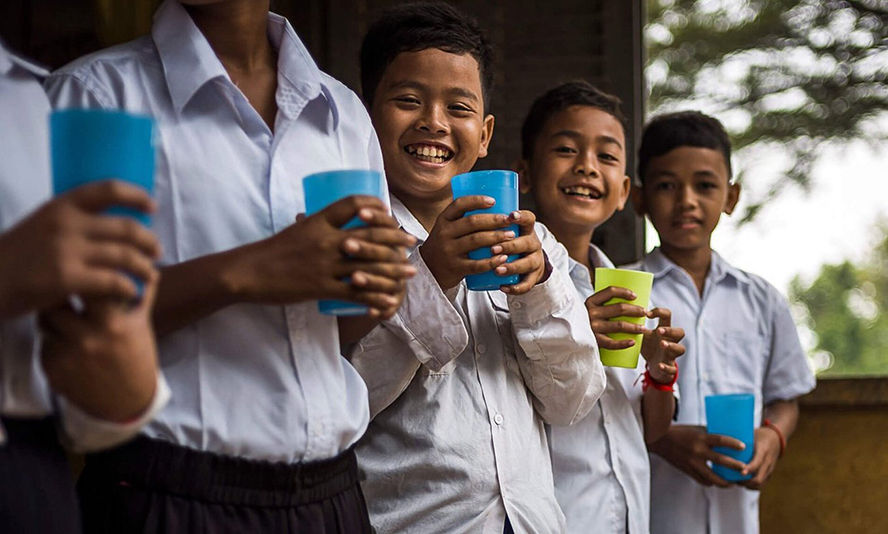 Volvic 1L for 1L water access
From 2019, working with Danone Communities, Volvic has helped to provide access to 1 litre of safe drinking water to people in need around the world for every 1 litre of Volvic water consumed. In 2019 Volvic provided access to 1.4 billion litres of safe water to over 5 million people around the world in the countries of Cambodia, India, Haiti, Mexico, Bangladesh, Nigeria, Rwanda, Uganda, Kenya and Senegal.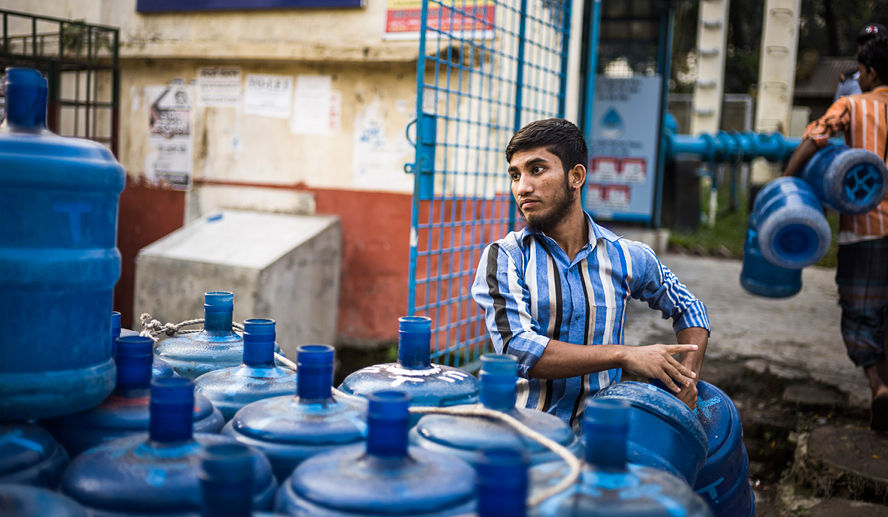 Drinkwell in Bangladesh
Minhaj Chowdhury, an American Fulbright scholar, was visiting his family in Bangladesh and realised that access to safe drinking water was a grave issue across the country. Turning down a professional career in the US, Minhaj created Drinkwell, a technology-driven social enterprise that powers water infrastructure in Bangladesh and India. Through a public-private partnership with the water utility in Dhaka, Drinkwell has already opened more than 200 water kiosks in the most densely populated areas of this city.
Impact Water in Africa
Impact Water provides safe drinking water solutions by delivering, installing and maintaining water treatment systems at ultra-affordable prices to schools across Africa. Impact Water works with 20,000 schools in Nigeria, where children can re-fill their bottles with safe drinking water all day long. Impact Water is also present in Uganda and Kenya.

Discover more about Danone Communities projects worldwide here