Danone's social innovation initiatives reflect our commitment to use our business as a force for good, supporting people in local communities in the UK, and worldwide, to live healthier lives.
Through partnerships with charities such as Foodcycle, FoodCloud and FareShare, we are supporting people across the UK and Ireland, providing information and advice on healthy and sustainable living and supporting the delivery of over eight million meals in 2023.
Contributing our expertise and specialist skills, we work closely with our local partners to make a difference. We know we achieve more together, so we work with partners like Carers UK and Fareshare to reach vulnerable groups in our communities, industry experts like WRAP (Waste and Resources Action Programme) to find pioneering sustainability solutions, and social platforms like Neighbourly to deliver support to those that need it.
SOCIAL INNOVATION IN PRACTICE
Here are some examples of our local and global social innovation initiatives across four areas: supporting local communities; promoting healthy eating choices; co-building sustainability solutions and our social innovation funds.
SUPPORTING LOCAL COMMUNITIES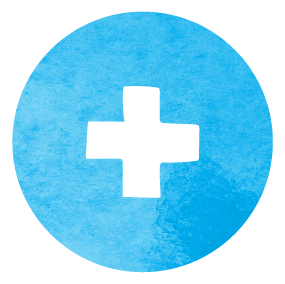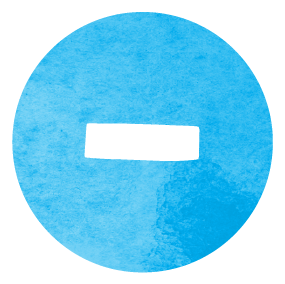 VOLUNTEERING
We encourage everyone at Danone to contribute their working time and skills to support the community. Volunteering and engaging with our local communities has been embedded in Danone's DNA for many years.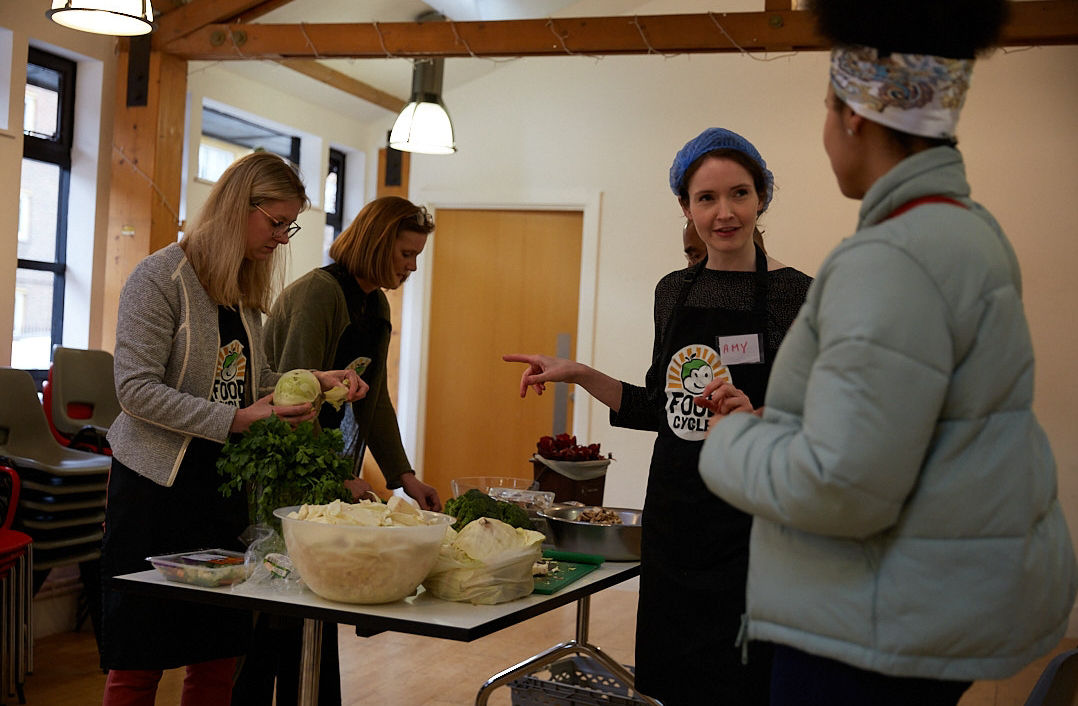 Danone employees have been given unlimited volunteering time to give back to the community. We bring this to life in our volunteering programme with Neighbourly where we match colleagues to charities in need.
Through our charity partnerships with FoodCycle, FoodCloud and FareShare, our employees have the opportunity to support their local communities.
REDUCING FOOD POVERTY
Today over one third of all food produced globally is wasted each year. Yet, profound food poverty sees millions of people around the world struggling to access food when they need it. According to WRAP, as of January 2023, 17.7% of households in the UK were 'food insecure', meaning they ate less or went a day without eating because they couldn't access or afford food. We believe we have a role to play in tackling food poverty.
By redistributing food that would have gone to waste to food banks we are supporting those in need within our communities. In 2022, we donated over 1.4 million meals (588 tonnes) to charities, through partnerships with Fareshare and Company Shop in the UK.

PROMOTING HEALTHIER EATING CHOICES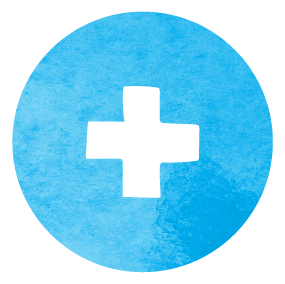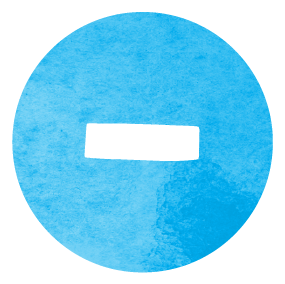 EAT LIKE A CHAMP
The need for healthier, more sustainable lifestyles has never been greater due to increasing obesity rates and an emerging sense of urgency to tackle climate change in the UK. Eat Like A Champ offers resources for six curriculum-based lessons, aimed to inspire 9-10 year olds to live healthier, more sustainable lifestyles.
Since 2010, over half a million children have been part of the Eat Like a Champ programme.​ In 2020, we revitalised the programme's resources, placing sustainability at the heart of the free, evidence-based healthy eating education programme. It has been developed in consultation with teachers and the British Nutrition Foundation, British Dietetic Association and everyday sustainability experts, Hubbub. Topics include healthy eating, food waste, recycling, hydration, climate change and physical activity. Find out more
CO-BUILDING SUSTAINABLE SOLUTIONS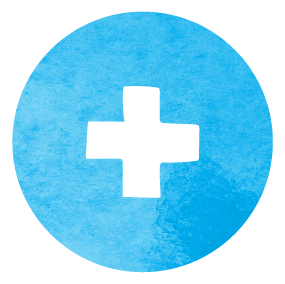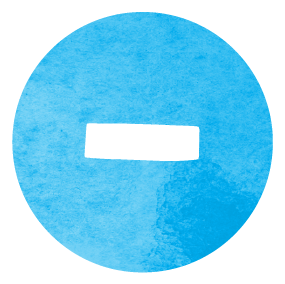 FOOD WASTE

As a leading food and drink company, we believe we have a role to play in tackling food waste. Food loss and waste happens when edible food is lost throughout the food value chain: at farm level, during processing and production, and at the end of the chain from shops or in consumers' hands.

Reducing food waste in our operations
In the UK and Ireland, we have committed, in line with The Waste and Resources Action Programme (WRAP) Target Measure Act Food Waste Reduction Roadmap, to reduce our food waste by 50% across our operations by 2030 (based on a 2019 baseline). We are raising employee awareness of the impact of food waste through internal food waste campaigns.
Reducing food waste in the home

To help reduce food waste in the home, we are moving from 'Use by' to 'Best before' dates on our fresh yogurts, as they are still safe to eat beyond this date. We are working with social impact company, Too Good to Go, to increase consumer knowledge and confidence about the difference between these consumption dates.
A PARTNERSHIP APPROACH TO INCREASE RECYCLING RATES
By 2030, our goal is to make our packaging 100% recyclable, reusable and compostable. This means eliminating the packaging we don't need; innovating so all the packaging we do need is designed to be safely reused, recycled or composted; and ensuring the material we produce stays in the economy and never becomes waste or pollution.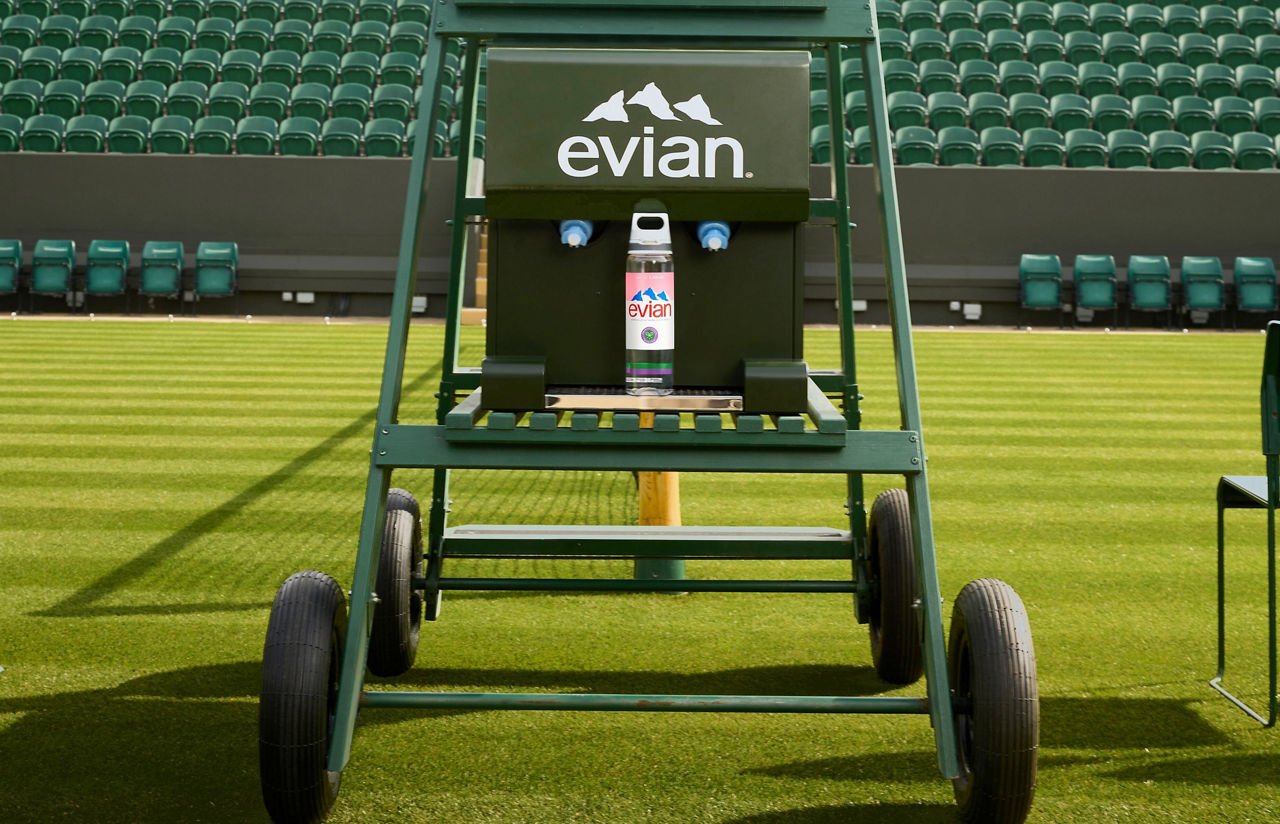 Continuing our journey towards circularity, at the Wimbledon 2023 Championships our evian brand showcased the first ever on-court refillable solution for players. The new refillable system aims to encourage refill behaviour on court, whilst continuing to deliver evian natural mineral water from its pristine mountain source, as the brand has done at The Championships for the last 15 years. 
The innovative new solution saw players provided with their own reusable bottles, as well as on-court dispensers. Working closely with Wimbledon we were able to join forces to showcase a refill and reuse model on a global platform. 
SOCIAL INNOVATION FUNDS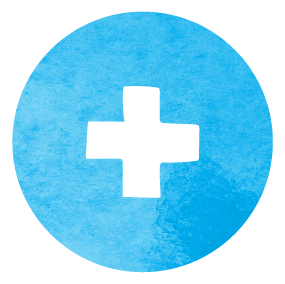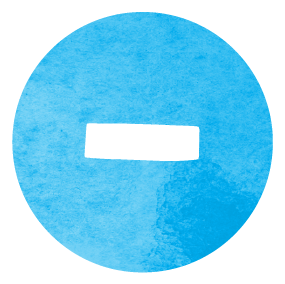 GLOBAL SOCIAL INNOVATION FUNDS
Danone's 'One Planet. One Health' frame of action reflects our vision that the health of people and the health of the planet are interconnected. We want to support people in adopting healthier and more sustainable eating and drinking habits. We want to do this in a way that is aligned with our long term commitment to economic success and social progress.

Globally, our social innovation funds do just that, as they pioneer ways to be more inclusive while creating value for Danone by:
Finding solutions to social, health and environmental challenges
Generating innovative social, sustainable and inclusive business models
Reinventing our relationship with key stakeholders through collaboration and co-creation
Danone Communities

The Danone Communities Venture Capital fund has invested in social businesses since 2007. It works to empower innovative social entrepreneurs who focus on giving vulnerable populations access to quality food and safe drinking water locally. It provides capital, networking opportunities and technical and managerial expertise to support entrepreneurs in achieving sustainable social impact, improving the health of more than 11 million people across 25 countries every day. In France, the fund has been supporting families living beneath the poverty line to improve eating habits for the first 1000 days of a child's life. ​
Find out more.
Livelihoods Funds

Danone supports Livelihoods Funds as they invest in large-scale projects in Africa, Asia and Latin America. The investment funds are designed to support the efforts of farmers and rural communities to live in sustainable ecosystems which ensure their food security and provide livelihoods. Find out more.
Danone Ecosystem Fund
The Danone Ecosystem Fund co-creates projects that respond to local challenges where Danone operates, working alongside NGOs and local businesses. Since 2009, they have co-created more than 100 projects, providing organisational know-how, technical expertise and financing support.
The Danone Ecosystem projects aim for a positive and systemic impact on people, health and planet through the empowerment of professionals such as farmers, waste-pickers and healthcare professionals. To date, over 76,000 professionals have been trained, creating a ripple effect through an ecosystem of 5.5 million people. You can stay up to date with the Danone Ecosystem projects here.
Early Years Nutrition Partnership (ENYP)
In the UK, the Danone Ecosystem Fund helped Nutricia UK and its local partner Pre‑school Learning Alliance (now Early Years Alliance) co-create the Early Years Nutrition Partnership programme. The EYNP aims to improve the future health outcomes of young children by setting a standard for nutrition practice in early years. An integral part of the programme is a commitment to support communities with high need. The goal is to provide every child aged under five in England with access to expert nutritional support.
EYNP helps nutrition professionals (Registered Nutritionists and Dietitians) expand their competencies in early years nutrition. The programme includes the "EYN Partnership Quality Mark" accreditation and upskilling opportunities such as undertaking a Level 3 CACHE award in nutrition and hydration in the early years. Nutrition professionals who have participated can build networks in their own areas, providing parents with 'hands-on' advice that is tailored to the specific needs of children aged under five.

The project was handed over in 2019 to the Early Years Learning Alliance and is now independent. Find out more.