Give the day your best shot!
Good things come in small packages. We think that's why Actimel is still going strong, more than 20 years after we sold our first bottle.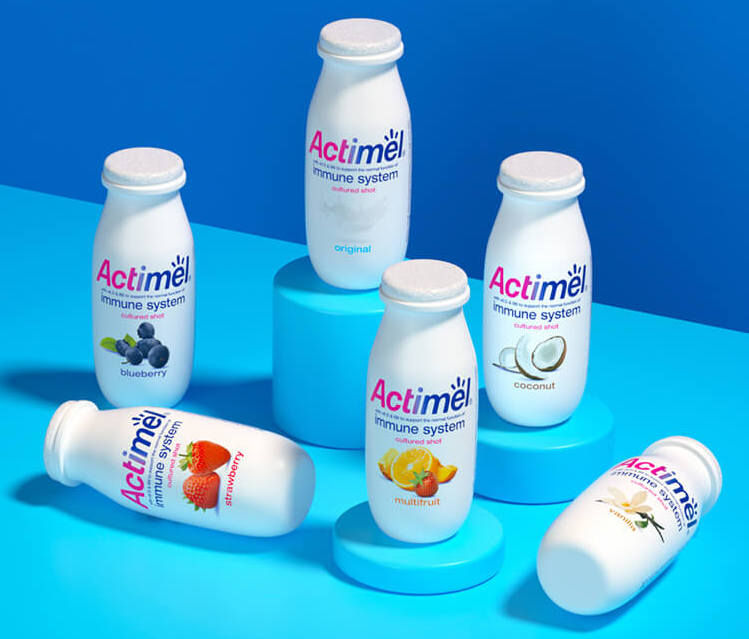 Actimel is a small but mighty cultured yogurt shot. It is bursting with flavour and is packed with good vibes. 

Our recipe contains L.casei Danone cultures (completely unique to us, by the way), and vitamins B6 and D which help millions of people support their immune system on a daily basis.
Actimel in the UK and worldwide
10 billion L.Casei cultures. In one small bottle.
Actimel contains not just Lactobacillus bulgaricus and Streptococcus thermophilus (the bacteria that turns milk into yogurt), we also add our own unique bacteria, Lactobacillus paracasei ssp. Luckily, when our scientists discovered it they named it something a bit more catchy: L. casei Danone®.

L. casei Danone was selected from a wide collection of cultures. Thanks to its association with the two other bacteria, the result was the delicious Actimel taste and texture we know today with 10 billion of live L. casei Danone per bottle.
Over 8 hours of fermentation
Unlike other fermented milk products, Actimel undergoes a specific fermentation process, which enables L. casei Danone to grow in the best conditions and our shots to come out with 10 billion cultures. As a result of our strict and dedicated quality control plan, we ensure that Actimel reaches your hands with at least this amount of cultures.
Source of Vitamins D and B6
We top up our Actimel shots with vitamins D and B6. Both these vitamins play a key role in supporting the immune system. Look at it as a little top-up to help keep you on top!