Danone's mission is to bring health through food and drink to as many people as possible. We have taken the decision to build a health-driven portfolio through our categories: Dairy and Plant-based products, Waters and Specialised Nutrition.
OUR HEALTH COMMITMENTS

IN THE UK & IRELAND
As part of our promise to consumers to prioritise healthy products, in 2023 Danone UK & Ireland launched new health commitments across its dairy, plant-based and beverages portfolio.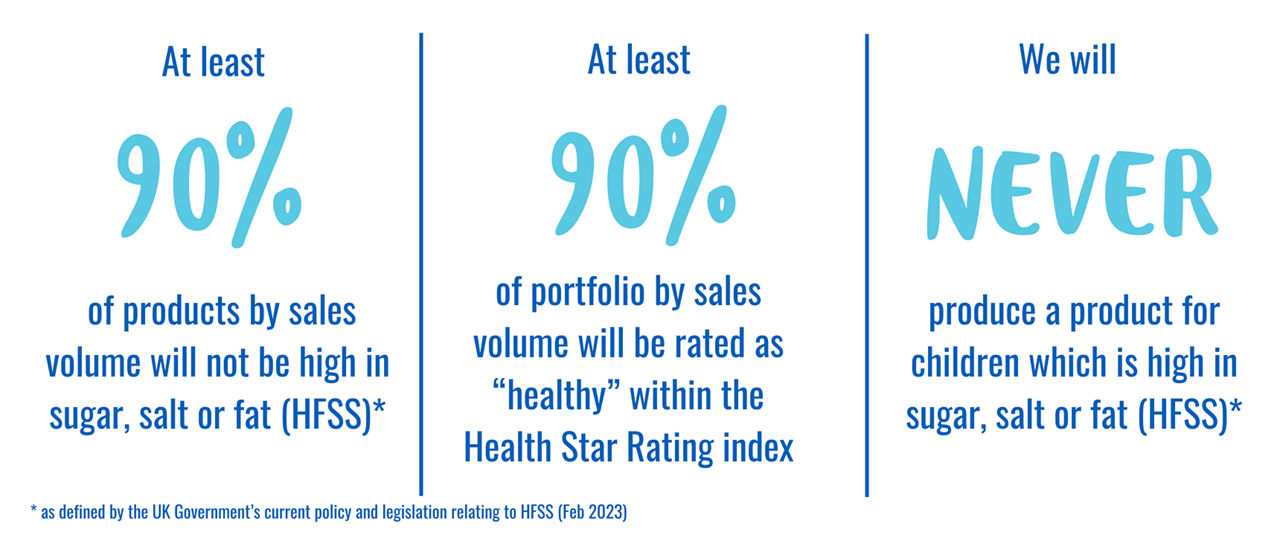 Danone UK & Ireland has committed:
That at least 90% of our portfolio of products by sales volume will not be high in sugar, salt or fat (HFSS), defined by the UK Government's current policy and legislation relating to HFSS.
That, additionally, at least 90% of our portfolio by sales volume will be rated as "healthy" – receiving a score of at least 3.5 stars out of 5 – within the Health Star Rating index. The international index assesses the overall nutritional profile of packaged food and provides a quick, easy, standard way to compare foods.
To never produce a product for children which is high in sugar, salt or fat (HFSS), defined by the UK Government's current policy and legislation relating to HFSS.
As part of these commitments, we have also confirmed our intention to implement clear, consistent front of pack nutritional labelling in line with future UK and Ireland legislation.
In the UK, we work towards the Government's nutrient reduction targets, including sugar reduction. We have reduced the sugar content in our yogurts by 16% since 2015 compared to a 14% reduction achieved across the whole yogurt category.
Our Specialised Nutrition consumer portfolio (which includes infant formula milks and complementary foods) has also undertaken extensive reformulation projects. We have worked hard to lower the naturally occurring sugar content of our baby cereal portfolio, supporting parents in encouraging their babies to develop a taste for balanced food options. We're proud of our progress in reducing sugar and we will continue to innovate and create better products that offer healthier alternatives.
A RESEARCH-LED APPROACH TO HEALTHIER ALTERNATIVES
In 2023 Danone unveiled its new international Daniel Carasso Research & Innovation Centre in Paris-Saclay to accelerate research on the future of nutrition.
The cutting-edge research centre will be dedicated to the development and innovation of nutritious, delicious, sustainable products across our dairy, plant based and waters categories.
With world-class researchers in life sciences, fermentation, intestinal microbiota, nutrition and health, the centre includes laboratories and pilot production sites to trial small-scale production of prototypes.
The centre also employs experts in consumer experience and social sciences to help us understand consumer needs and behaviours, as well as specialists in product design and packaging to focus on new solutions.