Our approach to Inclusive Diversity is driven entirely by what our employees are telling us. Starting with 50 ambassadors who formed our UK & Ireland Diversity forum in 2018, teams across are shaping our regional Inclusive Diversity strategy and helping us develop and deliver programmes. We extended our reach, inviting all employees in to take part in our Inclusive Diversity survey in 2019.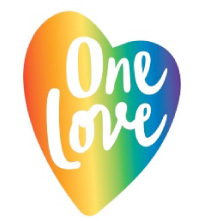 We discovered that celebrating PRIDE was important to our teams. We wanted to ensure our actions would be authentic and substantiate so in 2020 we built a sustainable campaign to shape our PRIDE identity. A campaign we would build on each year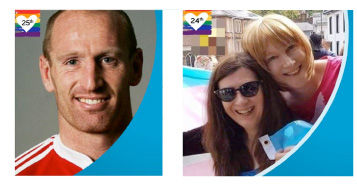 PRIDE 2020
Our  programme included an inspirational live presentation from former Wales Rugby star Gareth Thomas and an educational interactive webinar from the Founders and Directors of Global Butterflies, Emma Cusdin and Rachel Reese. The campaign raised awareness on the history of the LGBTQ+ community, advised on how to support the community as an ally and identified how to promote equality in a variety of different ways.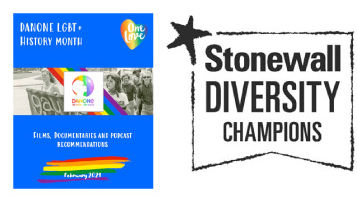 That was where we began. Since then, we have:

• Shaped an inclusion calendar to recognise, support and celebrate inclusion days for the LGBTQ+ community throughout the year

• Partnered with Stonewall, Europe's leading organisation fighting to ensure LGBTQ+ people throughout the world can achieve "acceptance without exception"
Stonewall Global Diversity Champions Programme
Our partnership with Stonewall is to help us to create real, positive change in our inclusion agenda. As part of this partnership, we are taking part in the Diversity Champions programme which provides us with expertise and resources to support our Inclusive Diversity Strategy and programmes. In October 2021, we will be taking part in Stonewall's benchmarking assessment. Our aim is to make the Top 100 LGBT employers.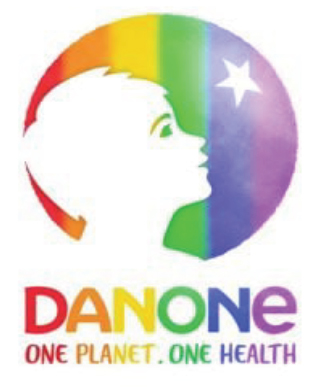 This year, we are encouraging Danone employees to include their personal pronouns, such as she/her, he/him, they/them, in their email signature, for the duration of Pride month and beyond.
By including pronouns in e-mail signatures helps everyone refer to one another respectfully by acknowledging and validating those who may identify as trans or non-binary. It is also a great way to demonstrate our allyship and commitment to trans equality both internally and externally.