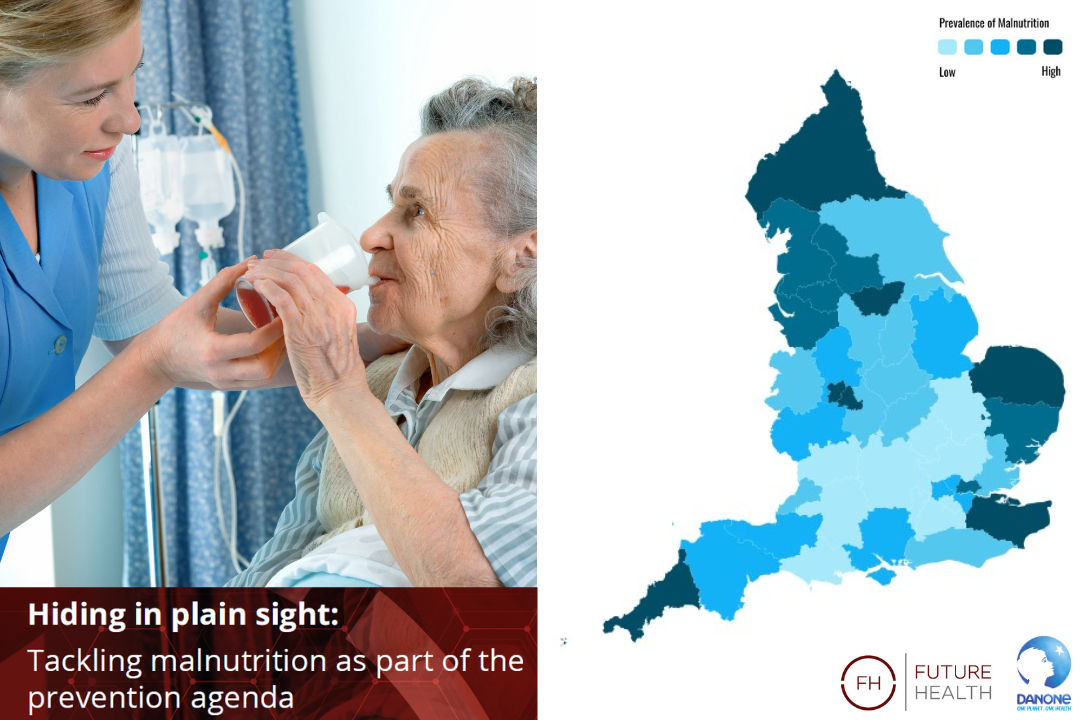 New research from the Future Health Research Centre reveals that an estimated 464,000 people who are admitted to hospital have disease related malnutrition each year in England. This is the equivalent to over 50 people admitted to hospital every hour


The research report Hiding in plain sight: tackling malnutrition as part of the prevention agenda finds that 2.9 million people have disease related malnutrition in England and the medical cost for a person who is malnourished is more than three times that of a person who is not malnourished


Disease related malnutrition is more prevalent in older populations and the report estimates that nationally just under £1 in every £5 of the NHS budget is spent on people with disease related malnutrition


The total cost related to malnutrition is estimated to be £22.6 billion with the majority of spending in hospitals, with other significant costs in social care and primary care. With rises in major conditions such as cancer, dementia and COPD in the coming years, disease related malnutrition is projected to cost an extra £4 billion by 2035 if no action is taken


Currently only 2% of people admitted to hospital with disease related malnutrition are receiving a diagnosis. Earlier diagnosis and better nutritional support for patients can help reduce hospital stays, support recovery and prevent costly re-admissions


The report calls for action in the Government's Major Conditions Strategy, including better screening of people entering hospitals and care homes and use of a new digital health check to more closely track weight changes in patients with major conditions including cancer and dementia
New research from Future Health, a health policy research centre, reveals the hidden cost of disease related malnutrition in England. The analysis, led by former Special Adviser at the Department of Health and Social Care Richard Sloggett and commissioned by Danone UK and Ireland finds that an estimated 5% of the population in England has disease related malnutrition. Disease related malnutrition is more prevalent in older people, those with major conditions such as cancer, Chronic Obstructive Pulmonary Disease (COPD) and dementia, as well as those with higher rates of deprivation1.
People with malnutrition are more likely to visit their GP, be admitted to hospital and recover from treatment more slowly. The research estimates that the additional cost of a person with malnutrition is £7,775 per person per year at a total cost to the healthcare system in England of £22.6 billion2.
The number of people admitted to hospital with a primary or secondary diagnosis of malnutrition has nearly trebled since 2009-10 from 3,500 to just over 10,000. However the research finds that the estimated rates of disease related malnutrition in hospital are significantly higher – with 464,000 people admitted to hospital each year – leading to 2.9 million additional days in hospital. Just 2% of people with disease related malnutrition being admitted to hospital are being diagnosed.
The impact of malnutrition is not evenly felt across the country. A number of northern and coastal communities with greater deprivation and older populations have higher rates of malnutrition. 
Eight NHS Integrated Care Boards (ICBs) have estimated malnutrition rates of over 6%. Cornwall and the Isles of Scilly ICB and Norfolk and Waveney ICB have the highest estimated rates of 6.7%.
These higher rates mean higher costs with some ICBs spending an estimated 20% or more of their budgets on people with malnutrition.
Screening, diagnosing and treating people with disease related malnutrition has been shown to be cost effective. A study in Gloucestershire found that screening and providing nutritional support to those with a medium and high risk of malnutrition resulted in a 49% reduction in hospital admissions, 48% reduction in length of hospital stay, 21% fewer GP appointments, 30% fewer antibiotic prescriptions and 13% less healthcare professional contacts4.
The pressures of disease related malnutrition on the health system are also seen in primary care. The research finds that there are an extra 4.73 million additional GP appointments each month related to disease related malnutrition. This represents 17.7% of all appointments. Annually this equates to 56.8 million GP appointments.
The report sets out a series of recommendations to tackle the issue of disease related malnutrition:
The Government should focus on malnutrition within the forthcoming Major Conditions Strategy including commitments to better screen and identify patients with or at risk of malnutrition5


Government and NHS England should include screening for malnutrition within the revised NHS digital health check


NHS ICBs as part of service planning should build up to date data to estimate the numbers of people with or at risk of malnutrition in their area. ICBs should use this data to deliver improvements in screening those at risk and access to appropriate treatment and care plans 
Richard Sloggett, Programme Director at Future Health said: "Disease related malnutrition is a growing health system problem that is hiding in plain sight. Political and policy action currently does not match up to the scale of the challenge. Thousands of patients are missing out on a diagnosis and the right treatment plan. With significant increases expected in major conditions such as cancer and dementia in the coming years ensuring better screening of people admitted to hospitals and care homes for malnutrition should be a priority for the Government's forthcoming Major Conditions Strategy. Better screening and diagnosis can unlock nutritional support that can enhance patient care and recovery helping to reduce pressures on hospitals and social care services."
Victoria Blewett, Medical Affairs Director at Danone UK and Ireland, who commissioned the research, said: "We need to see the impact of malnutrition being taken more seriously. It not only comes at a huge cost to the healthcare system, but also at a cost to the health of the millions of people affected. Ways to help solve this problem do exist, like the implementation of standardised screening across healthcare settings and incorporating better nutritional management across all areas of healthcare.  This is particularly important in the "at risk groups" such as those undergoing cancer treatment, the frail and elderly and those with existing chronic disease – where specific, medical nutrition support exists to help combat the issue.  If the NHS is to be put on a more sustainable footing, a more proactive approach to medical nutrition through prevention and management of malnutrition is essential."
Lesley Carter, Age UK and Malnutrition Task Force said: "1 in 10 older people are estimated to be malnourished and with an ageing population the numbers affected will continue to rise. Older people who are malnourished are at greater risk of falls, hospital admissions and longer periods of recovery. Unfortunately the myth perpetuates that it is 'normal' to get thin as we age. Yet malnutrition is largely preventable and treatable. This report is a wake-up call for politicians and policymakers who must now commit new action and resource to tackle the problem. With the right leadership and prioritisation we can reduce the rates of malnutrition, improve people's lives and limit the impact on the health and social care system."
Notes to Editors

ICB Malnutrition Rates

The region with the highest number is the North East and Yorkshire with three systems (West Yorkshire ICB, South Yorkshire ICB and North East and North Cumbria ICB), the Midlands has two systems (Black Country ICB; Birmingham and Solihull ICB) and East of England one system (Norfolk and Waveney ICB). Of the eight systems, just two are from the South East, South West and London regions.

Black Country ICB is spending the most – over a quarter (26.9%) – of its budget. Other systems spending over 20% include South Yorkshire ICB, Norfolk and Waveney ICB, Cornwall and the Isles of Scilly ICB, Kent and Medway ICB, West Yorkshire ICB, Suffolk and North East Essex ICB, North East London ICB and North East and North Cumbria ICB. 

Wirral Teaching Hospital: A Case Study

Wirral Teaching Hospital NHS Foundation Trust is one NHS organisation that has made efforts to screen and accurately diagnose patients with disease related malnutrition, recording 1,205 primary and secondary diagnoses of malnutrition in its latest figures. However this is an outlier, and six times higher than the next NHS Trust, with many Trusts recording a lot less. Wirral has completed significant work in relation to improving its screening of patients which likely explains its higher diagnosis figure3.


About Future Health
Healthcare systems are facing significant challenges of demographic, societal and technological change.

Founded by former UK Government Special Adviser Richard Sloggett Future Health undertakes cutting edge public policy research to inform policy making decisions to enable healthier and wealthier communities.  This research forms part of Future Health's prevention policy programme.

For more information: https://www.futurehealth-research.com/

About Danone UK & Ireland
Danone UK & Ireland is a top 10 branded food and beverage manufacturer. Danone's family of market-leading food and drink products supports the health of millions of consumers and patients throughout all stages of their lives. Home to household names that span across the dairy, plant-based and water industries, including Actimel, Activia, Alpro, evian, Volvic and Harrogate Spring Water. Danone is also a leading provider of specialised early-life nutrition through its Aptamil and Cow & Gate brands, and medical nutrition products and services through its Nutricia brand. In the UK and Ireland, millions of people are eating or drinking one of its products every day. 

Bringing together 2,400 employees across nine locations in the UK & Ireland, Danone's people are the driving force behind its commitment to using business as a force for good.

In 2022, Danone became one of the largest B Corps in the UK & Ireland.

For more information, please visit www.danone.co.uk or www.danone.ie